Do you know any LeCompte's who wear eyeglasses? If they are descendants of Antoine's son Moses, it may just be the remnants of an old Indian curse.
| | |
| --- | --- |
| | |
| The generally peaceful Choptank Indians lived in longhouses, not teepees, along the coastal waters of the Chesapeake Bay. Learn More | |
| | |
We do know that Antoine and a Mr. Horn explored the coastal land of the Great Choptank River in the late 1650's and settled around a bay, later known as LeCompte Bay, on either side of a creek, later known as LeCompte Creek. We also know that Choptank Indians, a sub-tribe of the Algonquin, lived by fishing these shores, and though capable of war, were generally a gentle people living in longhouses along the coastline.
As the land was sparsely inhabited by Europeans, the early settlers built homes that doubled as fortifications against any potential threat by the slightly more populous Indians. Encounters between the two cultures were occasionally bloody, but Antoine must have had adequate servants and armory to fend off any attacks. His great-grandchildren told stories of how he dispersed the Indians "by firing guns of most every size."
Although there is no evidence of a specific encounter, and there is no mention of a curse in the family manuscript of 1819, some family stories relate how in an act of self-protection, or perhaps overzealousness, Antoine killed members of the Choptank, perhaps the tribe of Chief Hatchwop, and consequently the Indians cursed his family with blindness. There is no doubt that Antoine's 2nd son Moses went blind in his early 20's, from what we today assume was Retinitus Pigmentosa, and that the "curse of blindness" afflicted 9 of Moses's children and more than 40 of his descendants.
Of course, before deciding whether there was ever really a curse, bear in mind that the 1800's produced a number of so-called 'Indian Curse' stories. Perhaps the most famous of them was the curse of Tecumseh that supposedly killed sitting Presidents elected every 20 years from 1860 to 1960. Just as this curse is unlikely to have been uttered, it is equally unlikely that a LeCompte curse was invoked.
However, I must note that as a direct male descendant of the first blind Moses LeCompte, I can attest that I, like my father's before me, although not blind, am quite helpless without a thick pair of spectacles mounted on my nose.
---
| | |
| --- | --- |
| | |
| | This coat of arms from Normandy is known to belong to the Gravelle family, althought it is frequently cited, probably incorrectly, as belonging to the LeCompte family. |
| | |
There are numerous coat-of-arms that have been described for the LeCompte family, probably because of the multitude of spellings and families that appear in different places and times from Belgium to France to England. There is also uncertainty as to whether Anthony, the immigrant, had a coat-of-arms before he left France, and whether he had one recorded in the Herald's College for his service to the King of England in the 1640's.
There are certainly numerous Internet vendors who are ready and willing to find and print your coat of arms on a mug, shirt, or scroll. Unfortunately, they all differ slightly on the specifics of what constitutes the LeCompte shield. More alarmingly, the shield they often suggest resembles a bit too closely the shields of many other names.
| | |
| --- | --- |
| | |
| A rendering of the shield that hung in Benjamin Berry LeCompte Sr.'s home in Richmond, VA. | |
| | |
One possible, unverified coat of arms that is frequently associated with the LeCompte name is described as "a blue shield with a gold chevron between three silver crescents." The Crest is often identified as a lion, and the motto is generally unknown. Other sites suggest that "on a red background there is a gold lion with two silver stars." Still others report "a shield divided bendy red and gold with three escallops on a blue chief." None of these sites document the source for identifying the shield.
The coat of arms shield that hung in the home of Benjamin Berry LeCompte of Richmond, VA simply displayed a red chevron and three black ravens with the motto, "The Lord Feeds the Raven." The motto is clearly a Bible reference to the Grace of God:
Luke 12:24 "Consider the ravens: for they neither sow nor reap; which neither have storehouse nor barn; and God feedeth them."
Ravens would have been a common sight flying over battlefields in medieval times, eager to feast on the dead. Perhaps the idea was that the knight carrying the raven shield would be the one feasting at the conclusion of the battle.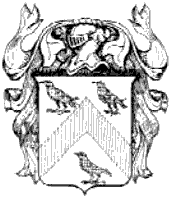 This Le Compte shield has Belgian roots according to research by Robert J. Dubois.
The web site of Robert J. Du Bois, a Le Compte of Belgian ancestry, tells us a bit more, and also displays a "raven-like" shield that was purportedly:
"drawn by an heraldic artist from information officially recorded in ancient heraldic archives. Documentation for the Le Compte Coat of Arms design can be found in Rietstap Armorial General. Heraldic artists of old developed their own unique language to describe an individual Coat of Arms. In their language, the Arms (shield) is as follows:

"D'arg. au chev. de gu., acc. de trols corbeaux de sa.'

"When translated the Arms description is: "Silver: a red chevron between three black crows." Family mottos are believed to have originated as battle cries in medieval times. A Motto was not recorded with the Le Compte Coat of Arms."
Elias Jones, in his book "Revised History of Dorchester County" (1925, p397), includes a drawing of yet another coat of arms for the Le Comte surname, which he presumably acquired from Samuel E. LeCompte of Cambridge, MD. Unfortunately, he gives no source or traditional description for the drawing.
Unfortunately, a search in May 2004 by William Hunt, Windsor Herald for the College of Arms in London, concluded that no knighthood of Antoine LeCompte (or its various spellings) is to be found in England. However, there remains the possibility that Antoine carried his family Arms from the European continent rather than for service to the English King.
Editors Note: If anyone has more concrete information on the proper shield for the family of Anthony LeCompte, please let us know!
HISTORY OF COAT OF ARMS
Insignia were not hereditary at first and knights were free to choose their own symbols, as were wealthy individuals, families, towns, lordships, abbeys and other groups who had gained the favor of the reigning monarch. As confusion and duplication grew so did the complexity of these symbols. What had started out as a simple form of identification and pride had risen to a complex system of inherited social status. The problem became so widespread that in 1484 the Herald's College was established in Britain to oversee all claims of subjects to armorial rights. No arms were considered legal unless recorded in the College.
More about the history of using a Coat of Arms.

More about the elements included in the drawing of a Coat of Arms.
---
LeCompte Translated and Pronounced

The Count

When you know a little French and you learn that LeCompte translates "The Count," you can't help wonder whether your ancestors were royalty. Then you realize that the French verb 'compter' means 'to count' and not 'the count.'

According to most sources, the surname Le Compte appears to be occupational in origin, and is believed to be associated with the French, meaning, "one who kept the accounts." The most prominent variations of Le Compte are Lecompte, Lecompes and Les Comptes. One ancient origin of the name may be Languedoc in Southern France.

But how do your pronounce it? Perhaps the best way is how our own grandparents taught us. Two predominant versions are "lah kount" or "luh kawmpt". Antoine would likely have had a much richer, french accent more akin to "luh kohmt" with a long "o" sound. Just like our gene pool, pronunciation changes with time and geography. There's no right or wrong. There's simply what we hear and say.


Or the Accountant?
---
In case you are wondering who authored and produced this web site, it is the littlest boy at the beach in the following picture.
| | |
| --- | --- |
| | |
| Family photo of Ben & Isabel (Collie) LeCompte taken summer 1966 on the beach in Virginia Beach, VA at 57th Street. Standing (l to r): Benjamin Berry LeCompte III, Carmen (Pettus) LeCompte, Benjamin Berry LeCompte Jr., Benjamin Berry LeCompte Sr., Isabel (Collie) LeCompte, Isabel "Sys" (LeCompte) Schulte, Walter Lane Schulte, Edwin Lee LeCompte. Seated (l to r): Hunter Pettus LeCompte, Carmen Rebecca "Becky" LeCompte, William Harvey "Bill" LeCompte, Kirkwood Adams LeCompte, Jane (Saunders) LeCompte, Lee Mason Schulte, Walter Kent Schulte, Michael Lane Schulte, Jane Burrows "Jebbie" LeCompte | |
| | |
My grandfather's father: Frank Layton Foxwell LeCompte
My grandfather's mother: Mary Ann Westbay Mason
My grandfather's grandfather: Francis Asbury LeCompte
My grandfather's grandmother: Eveleene B. Foxwell
Francis & Eveleene LeCompte, my great-great-grandparents, gave birth to 14 children, but fate yielded only four grandchildren. Five of their children died within three months of birth. Two more died between the ages of six and seven. Three married, but had no children of their own. Of the four who were married and gave birth, each had just one child who lived beyond infancy. The four surviving grandchildren were William Francis LeCompte (b. 1887), Charles Francis Fountain (b. 1891, a.k.a. Frank Fountaine), Benjamin Berry LeCompte (b. 1900), and Harold W. LeCompte (b. 1919). If you are a descendant of one of these grandsons, I would very much like to hear from you at kirk.lecompte@usa.net.
Three of Francis & Eveleene's children married but had no children. However, two of them did raise children. Kate LeCompte, who married James Mitchell Reid, raised a friend's daughter from the age of 18 months. This "adopted" daughter was Meta Carpenter who later married Howard B. LeCompte and had four children. And Edwin Lee LeCompte, who married Delia Augusta Sherman, raised Delia's niece Lucille Sherman Phillips after the death of Lucille's parents. Lucille never married or had children.
Hope you are enjoying your visit!
Update 2011: Still looking for living descendants of these gentlemen!

William Francis LeCompte, joined the Canadian Army and served with the British in WWI. He married twice while in Europe. He married his first wife, a welsh woman Adelaide Thomas, in 1915, then later in 1922, a French woman, Marie Celine Benoit, with whom he returned to Baltimore, MD. Descendants of his first wife are living in the UK. It is not known if he had children with his second wife.

Charles Francis Fountaine married Birdsall "Bertie" Emeline Johnson and had a son Frank Fountaine Jr, who was born in 1914 in Philadelphia, PA and resided in Los Angeles, CA. It is believed he and his mother moved to Jacksonville, FL by the 1970s. No known descendants.

Harold W. LeCompte, son of Edgar Wrightson LeCompte, was unknown to me until I noticed him in the 1930 census for Baltimore. He appears to have been sent to Rosewood State Hospital about 1930 and may have been institutionalized. No known descendants.
---
There's plenty of affordable DNA testing available these days, some of which is appropriate for determining how recently individuals share a common maternal or paternal ancestor. For instance, the results of a paternal ancestry test can give a reasonable probability of whether the men tested share a grandfather or a very-great grandfather.
The paternal ancestry test relies on known segments of DNA on the Y chromosome that contain a known repeating pattern. Each segment is referred to as a marker, and the number of times the pattern repeats is referred to as an allele. Most importantly, the number of times the pattern repeats varies from person to person, but males who have a common ancestor within a few generations will most likely have the same number of repetitions on all markers - that is - the same allele count on all markers.
For purposes of comparison, I am posting Y-DNA test results below for known patrilineal descendants of Anthony LeCompte. I am not promoting DNA testing or any specific DNA testing lab, but I do think it's valuable to share results. If you do take a Y-DNA test, it seems wise to test as many markers as you can afford. Statistical affirmation requires about 25 out of 25 matching markers, but practical affirmation for relation to Anthony can be done with as few as 11 out of 12 matches, or 22 out of 25, especially if your surname is LeCompte.
Table 1: LeCompte Y-DNA Test Results
Early
LeCompte
Lineage
# of matching samples

Haplo-
group
DNA Y-Chromosome Segment Number (DYS Marker) and Allele Values
4
5
6



3
8
9
-
I,II
3
9
0



4
5
8



1
9




3
8
5
-
a,b
3
9
3



3
9
1



4
3
9



6
3
5



3
9
2



Y-
GA
TA
H4


4
3
7



4
3
8



4
4
8



4
2
6



3
8
8



>Anthony1
>Moses2
>William3
>Moses4
2
R1b
17
14,30
24
17
14
11,14
13
11
12
23
13
12
15
12
19
>Anthony1
>John2
>Robert3
>Charles4
1
R1b1b2
15,32
24
14
11,15
13
11
12
13
12
12
>James G1
>Alfred A2
>Henry G3
>James A4
1
R1b
17
15,32
24
18
14
11,14
13
11
12
23
13
12
15
12
19
12
12
In Table 1, the column header identifies the marker (e.g. segment 456) and the number value below it represents the allele - that is - the number of sequence repetitions. If your paternal lineage goes back from father to father all the way to Anthony LeCompte, then your DNA should match on most markers tested. If a few values differ, it may be due to mutations and indicate a different early lineage. Some markers mutate frequently, others not so much. Even an exact match does not guarantee you descend from Anthony, but it would be extremely likely you do.
Let me know if you have test results to share. The goal is to post and compare various LeCompte lineages. In fact, such postings can be done at Ysearch for any surname at no cost. We only have a few LECOMPTE samples so far, so it will be interesting to see what others report.
For understanding statistical differences visit "How Many to Test." For instance, it's interesting to see in the Ysearch database that 21 out of the 81,105 samples match one of the samples above exactly on 13 of 13 markers, yet none share the LeCompte surname. Consequently, it appears to be important to test as many markers as possible, so more markers can be compared, and stronger conclusions can be drawn.
Likewise, results can sometimes contain errors. For instance, I am surprised that the second entry above has 3 differences from the first entry. Is the difference due to mutations, incorrect lab work, or something else?